Absolutely beautiful Railroad theme designed belt buckles! I believe these to be made of brass. All are in Super Excellent condition with most of them still in their original unopened cellophane packaging. I don't know just how many buckles the original collection contained but I have a total of 5 different designs and two duplicates. I have numbers 3, 4, 5, 6, and 7 in the series (See Images Below For More Detail). I'm missing numbers 1 and 2. I also have one duplicate each of numbers 6 and 7 in the series. Each buckle states on back that this collection is "BY RAILROAD SAVINGS AND LOAN". Buckles measure approximately 3 5/8" wide by 2 3/4". The belt loop itself will accommodate belt widths up to 1 3/4" in width.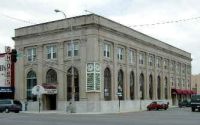 The Railroad Savings and Loan building now known as 500 Main Place stands just across the street from the Newton Railroad Station in Newton, Kansas.

The original Savings and Loan Association consisted of railroad men who desired a home financing agency and grew to become one of the largest financial institutions in Kansas. The Railroad Savings and Loan building was placed on the National Register of Historic Places May 6, 1982.
* * * SEE SHIPPING AND HANDLING INFORMATION BELOW IMAGES * * *