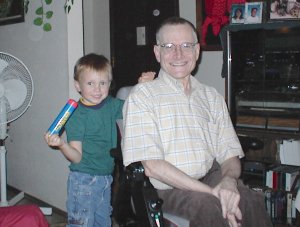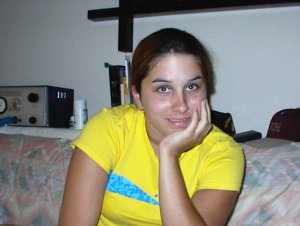 | | |
| --- | --- |
| Carrie took this one of Austin and I after we "found our way back home". | I snuck this one of Carrie while she was watching TV. |
Austin asked if I had any more toys so I brought out a bag of some I've been collecting. He was content to just sit there in the chair playing with them for a while. Carrie was watching TV.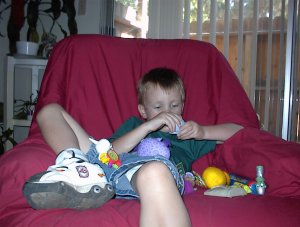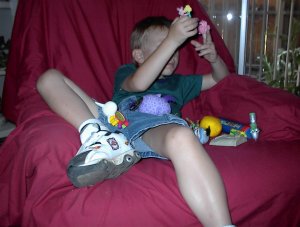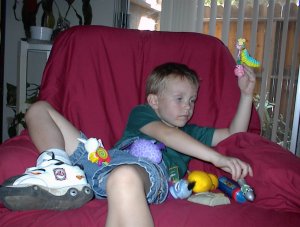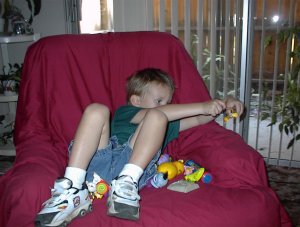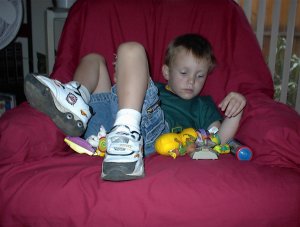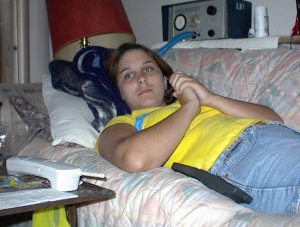 I offered Austin some ice-cream; of course he didn't refuse. Carrie tried to dish some out but my little freezer froze it so hard that she had to tell Austin he was going to have to wait until it thawed out a bit.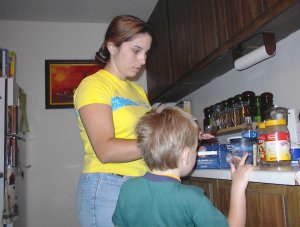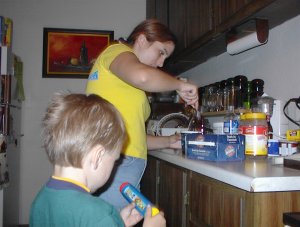 So, Austin and I went back outside. By then several of the apartment complex children started to gather on the playground. Austin had no problem walking right up to them and trying to join in. Quite a few of the pictures are of him at play. A few of the older children even allowed him to join their marble game. Austin had no idea what he was doing but it didn't seem to bother the others. They just quite politely ignored his little marble he kept flicking around. I was quite pleased how well they treated him.
Austin (squatting) watching them play marbles

Austin shows them one of the toys I gave him

He lets them check out his new toy

Austin has been given a marble to play with

Austin playing marbles.
He's waiting for his turn here

Austin playing marbles.
It's one of the girls turn to shoot

Austin moved to the playground equipment

He climbed all over the place
Later, an ice-cream vendor came down the sidewalk ringing his little bell and pushing his small ice-cream cart. I saw Austin run up and watch as another child purchased a popsicle. At the same time I was showing some of the other children the images I had taken with the digital camera. Next thing I knew one of them said Austin was crying. I had seen him walk over to the playground equipment and sit down beneath the slide but hadn't noticed anything wrong. When I wheeled up to him and asked what was the matter he said sobbingly, "The ice-cream man wouldn't give me any ice-cream". I told him that was because he needed money to buy the ice-cream with. He then stuck both hands in his pockets and pulled them back out making sure to show that they were empty and while continuing to cry said, "But I don't have any money". I was feeling pretty bad by then but didn't have the money either. So, I told him we had some ice-cream waiting in my apartment.
| | |
| --- | --- |
| | When we got back, the ice-cream had thawed and Carrie dipped him out a small bowl. I hand spooned him a couple of small bites and he was done. I finished what was left. We then went back outside where he played some more. I forgot to take my camera with us. |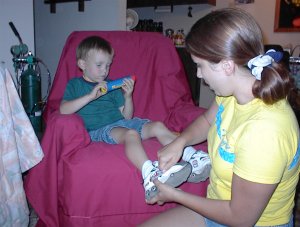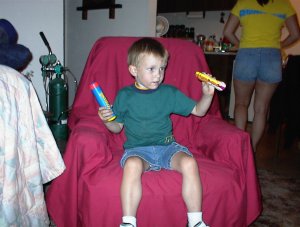 By the time we came back in, it was time to go. Carrie helped him to put his shoes on. When she was done Austin offered me one of his toys because I had given him one of mine. I thanked him and then told him to keep it for me because someday I was going to come out to Arizona and visit him where we could both play with the toys then. Shortly after that, they were out the door. I followed them to the car but forgot to bring my camera for a few parting shots.
I miss him again already..................love you, Austin!!!

Thanks for bringing him by, Carrie!!!